Profile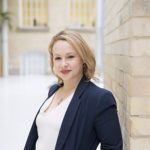 Mhairi Bowe
Curriculum Vitae
Education

I went to Blairgowrie High School in Perthshire, Scotland. After school I attended the University of Dundee, where I did an MA (with honours) in Psychology (with minors in Politics, Philosophy and Social Work), an MSc in Psychological Research Methods, and then a PhD.

Qualifications

I gained 8 standard grades (the Scottish equivalent of GCSEs). They were: English, Maths, Modern Studies, Art, Biology, Physics, Religious Education, and French.

Work History

After school I worked as a waitress and a factory worker before going to University. I worked in a shop as a supervisor whilst I was at University. When I left University, I worked for two years as a Research Assistant in the department where I got my degree. I then began my PhD (in the same university). After that, I moved to Nottingham to begin work as a lecturer and then senior lecturer.

Current Job

My current job is a Senior Lecturer in the Department of Psychology at Nottingham Trent University.

Employer

My university is a prize-winning university.  We recently won The Guardian University of the Year (2019), The Times Modern University of the Year (2018) and Time Higher Education University of the Year (2017).  We are located within the School of Social Sciences and we are one of the biggest Psychology departments in the United Kingdom.
Favourite thing to do in my job: Using my research knowledge to help support positive changes in the community

About Me: I am a social psychologist interested in all aspects of identity and social relationships, but in particular how they relate to health and well-being. I am Scottish but I work in Nottingham as a Senior Lecturer and researcher.

Read more

My name is Mhairi (pronounced Vari), and I am social psychologist working at Nottingham Trent University, where I have worked in education and research for nearly ten years.  I did a PhD at Dundee University in Scotland looking at how people attach themselves to places and how this affects their sense of self, well-being, and connection with others.  I am interested in relationships and identity in community and social settings, and I research how these influence health, well-being, and experiences.

At home, I am mum to four children (including twin boys) and I am a keen runner.  I am passionate about community and environmental issues and spend my free time with family, in the countryside, and volunteering.

My Work: My work at NTU involves teaching social psychology, mental health, and community psychology. I also teach research skills and supervise student research as well as conducting and publishing my own research.

Read more

My work involves a mix of activities, which makes it interesting and busy in equal measures.  I get to teach lots of topics that I am passionate about including mental health, well-being, social relationships, ageing, stress, stigma, prejudice, and identity.  I get to connect with lots of students and help them on their learning journeys and I get to support them in their own research, which is great and very rewarding.

I also get to work with groups and organisations in the communities around Nottingham in my research work, which means I get to meet lots of people and hear their stories.  Sometimes that means working with people who support and/or are refugees, survivors, and people experiencing poverty and homelessness. I hope that my research and outreach work helps to represent the needs and lived experiences of these people who make up our communities.

My Typical Day: My typical day involves a mix of teaching, running courses, and research.

Read more

In a typical day, I can be found teaching lectures and workshops, and running tutorials for undergraduate and postgraduate students. I will also be involved in tasks linked with the running of university courses such as course design, planning, preparation of resources, supporting a team of lecturers, assessing students' work and reviewing students' feedback.

I will also be taking part in research-based activities during the day.  Conducting research involves collecting data, planning research, liaising with community partners in voluntary organisations or organisations such as the NHS, and publishing the results of my research. Sometimes, I will be sharing my research findings at conferences, training events and public events in the UK and internationally.

What I'd do with the prize money: I would like to use the prize money to share information and insights from my research work with local charities with school students and members of the public.

Read more

I would like to use the prize money to share information and insights from my research work with local charities with school students and members of the public. The events would be supported by the prize money so people could come along for free, share some food and stories, and hear about how they can get involved.

My Interview

How would you describe yourself in 3 words?

Psychologist, Researcher, Public-speaker

What or who inspired you to follow your career?

The community work my grandmother and mother took part in when I was a child, and the desire to understand my own childrens' development and place in the world.

What was your favourite subject at school?

Biology, English, and Politics

What did you want to be after you left school?

I wanted to be an ornithologist for many years, and then a biologist of some sort.

Were you ever in trouble at school?

Not that I can remember but I may have decided to forget!

If you weren't doing this job, what would you choose instead?

Working for a charity supporting vulnerable populations or in a school.

Who is your favourite singer or band?

Radiohead, Elbow, Massive Attack.

What's your favourite food?

Lots of veggies and pasta

What is the most fun thing you've done?

Travelled to different countries

If you had 3 wishes for yourself what would they be? - be honest!

Being able to make a difference in communities, being able to influence policy in positive ways, being able to see my children enjoy long and happy lives.

Tell us a joke.

Two fish in tank...one says to the other: 'How do you drive this thing?'
---
---
---